AC Repair In Yorba Linda
Honest, Reliable Air Conditioning Repair in Yorba Linda, CA
When your air conditioner breaks down, you want reliable, experienced technicians who provide the right solutions fast. Econo Air has served the Southern California for more than 40 years, offering quality service from trained professionals. Family owned and operated, look to Econo Air for:
Professional, licensed, and certified technicians
Commitment to excellence and customer service
Award-winning professionals: Best of HomeGuide for 2017
Integrity and community focus
24-hour emergency service
AC REPAIR SERVICE YORBA LINDA CAN RELY ON
June through October, the average high temperature in Yorba Linda, California is 80-degrees or higher. During these hot months, your air conditioner works overtime to keep you cool. A breakdown during this time is not uncommon, and we're here to help. Offering 24/7 emergency service, our technicians will respond quickly, diagnose the problem correctly and fix the problem the right way. No problem is too big or too small for our professionally trained staff. Call Econo Air and we'll have your air conditioner working again in no time!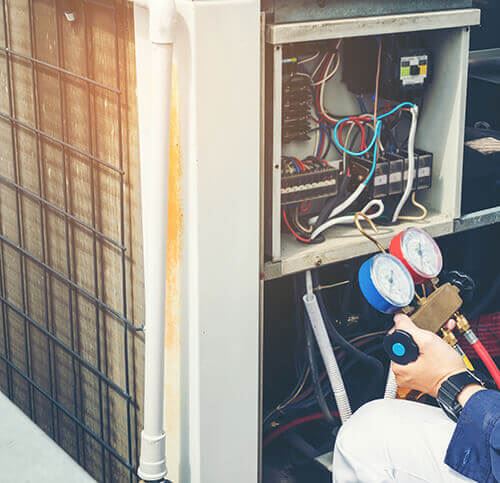 SUBTLE SIGNS YOU NEED AC REPAIR
1. The musky smell of mold or mildew - Since condensation is a byproduct of cooling air, there is often excess moisture that can accumulate in or around your unit or in your ductwork. When it comes to mold and mildew, trust your nose and give us a call should you see or smell anything.
2. Ice or water - Leaks can happen in the condensate line or drain pan and those parts can be patched or replaced fairly inexpensively. If you have a dirty air filter it'll stop your unit from getting the air it needs to regulate the coolant and it could freeze over.
3. Rising utility bills - If you have an electrical bill that is on the rise then call in our Yorba Linda AC repair team because it could be that your AC isn't at 100%.
4. Less airflow - If you have a leak in your duct work you might not be getting the same amount of cooled air that you've grown accustomed to. If you have no airflow then it's likely an issue with your blower fan.
5. Changes in noise level - You should know what the sound of your AC is by now but if you notice anything new and loud then call in our AC repair experts to inspect your unit before the breakdown gets worse.
IS IT WORTH REPLACING YOUR AIR CONDITIONER?
Is your air conditioner on the fritz? You may be wondering if it's worth repairing or if you should just replace it. Here are a few things to consider when making your decision.
The first thing to consider is the cost of the repair. If it's a simple repair that won't cost much, then it may be worth fixing. However, if the repair is going to be expensive, you may want to consider replacing the unit.
Another thing to consider is the age of your air conditioner. If it's an older model, it may not be as efficient as a newer one. Replacing it with a newer model could help you save money on your energy bill.
Finally, you'll want to think about how often your air conditioner breaks down. If it's constantly breaking down, it may be time for a new one. However, if it's only broken down a few times, repairing it may be the best option.
If you're still not sure whether to repair or replace your air conditioner, talk to a professional. They can help you assess the situation and make the best decision for your home.
ECONO AIR PROVIDES MORE THAN JUST AIR CONDITIONER REPAIR
Beyond air conditioning repair, we offer a full-lineup of cooling products and services, including:
No matter what you need, Econo Air has it covered when it comes to air conditioning. We've built our business on providing the most trustworthy customer service. Serving Southern California since 1982, we care about the comfort of our community. Call us today for the best air conditioning and heating repair in Yorba Linda!
If you need to schedule an appointment with our Yorba Linda AC repair experts contact us online today.