AC Installation
Econo Air Is Here For You
Contact Us Today!
FULLERTON AC REPLACEMENt
Providing AC Installation in Fullerton Since 1982
When things get a little toasty inside your home, you may crank down your thermostat to try to stay comfortable. But what if nothing happens? This is a problem that thousands and thousands of people face each and every year. Maybe you have an old air conditioner or maybe you need an AC repair.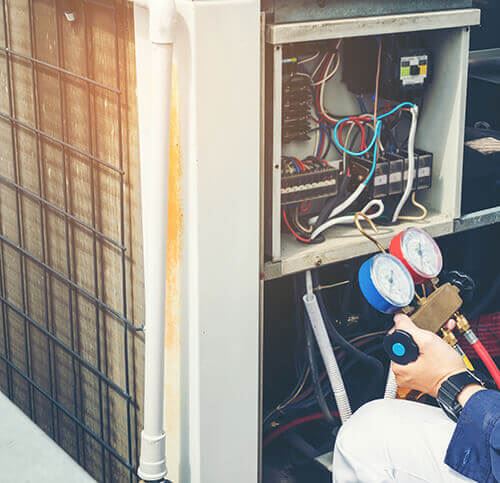 For a high-quality checkup of your system, reach out to the cooling specialists at Econo Air. We can complete a full-diagnostic of your AC unit and determine the best course of action. Whether you need a new AC replacement or a simple repair is the solution, you can count on us to complete the job quickly and on-budget.
WE'VE BECOME THE BEST IN THE AREA THANKS TO OUR:
Specialization in 3,000 + square foot homes, eliminating the need for two HVAC systems
Experience in unique custom installations
Acoustic Noise Control technology
Professional, licensed, and certified technicians
Ability to provide financing with approved credit
24-hour emergency AC repair
Signs You Need A New AC Installation
1. Old age - On average an AC units lasts from 8-12 years. If yours is much older than that you shouldn't sink more money into repairing a dying AC and instead consider a new AC installation.
2. The smell of something burning - Not all smells mean the same thing, the musky smell of mold or mildew means you need a cleaning but the smell of something burning could be worse.
3. Repair after repair - We'll always be in to fix your AC, but if you're needing one repair after another then consult our Fullerton AC installation experts to save money in the long run.
4. Rising utility bills - All HVAC units will get less efficient as time goes on, what this means is you'll have to pay more to get the thermostat to the same temperature.
5. Loud sounds - Not all sounds mean the same thing, but it's best to get in a trained and licensed professional to diagnose your problem if it's particularly loud. Pay special attention to any new sounds and note them to our Fullerton AC installation experts upon their arrival.
REAP THE BENEFITS OF AN AC REPLACEMENT IN FULLERTON, CA
Want to improve the comfort of your home? Tired of seeing high energy bills? Then one call to Econo Air is all you need. We can send one of our skilled technicians to your home to complete a quick and easy checkup to determine if an AC or heating installation in Fullerton is the best option for you.
Depending on the problem you're experiencing, we might examine wiring, the power source, ductwork, your thermostat, and more. If we believe you need an AC replacement, we'll give you many options to choose from. From helping you pick the best cooling system for your needs to installing the system in a quick and timely manner, it's no wonder why thousands choose us as their cooling solutions provider.
AFTER A NEW SYSTEM INSTALLATION, YOU MIGHT NOTICE:
Less noise during system operation
A more comfortable home
Lower utility bills
Improved air quality
Be sure to check out our full line of outstanding systems! These units come in all shapes and sizes, but they all have one goal in mind — improving your comfort while saving you money. Make an appointment with us today and ask about our specials!
Don't forget: we offer AC repair and maintenance services as well!
Contact us online today to schedule an appointment with our Fullerton AC installation experts. Our Customer Testimonials
"I would use Econoair again."

Good Crew, Good Work, Good follow up, Good clean up.

- Patrick M.

"Professional Service and Reliability"

Econo Air installed our new system two years ago and is maintaining it regularly. It works fantastic. We got our deal through Costco and it included a solar panel dedicated to the AC and their patented Mizer (house fan). We have never been so comfortable.

- Phil S.

"Professional, Reliable, and Fast"

Great service from the initial customer service phone call through job completion.

- Hank H.

"Always amazing service."

Econo 's staff is always friendly and helpful. The techs are outstanding and courteous. They always do a great job.

- Elsie E.

"Happy Customer"

Econo Air installed my air conditioning unit when I moved into my older model home which did not have AC. They did a wonderful job on the installation and now they do the annual maintenance for it. I am very happy with everything that they have done for me

- Carrie G.

"The Flux Capacitor!"

Blake Coleman saved my life. Lol. We he arrived my house was 88 degrees and I am working from home. He made a quick diagnosis, the capacitor, and got us up and running quickly. Thank you Blake!

- Barbara F.

"They are the best in the business!"

Though it's still early, I am still extremely pleased with this company. We've muddled through some hiccups regarding paperwork permits, & permissions!! Ask me again after the actual installation!

- Jo Anne A.

"Simply superb maintenance."

Simply superb maintenance. Friendly, good communication skills. Trustworthy.

- Rodney P.